Stago was a pharmaceutical laboratory, founded in 1945, which now operates in the In Vitro Diagnosis (IVD) industry, wholly dedicated to the exploration of haemostasis and thrombosis.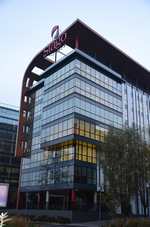 From Research & Development and Production to Logistics, Marketing, Sales and International Distribution, Stago remains in control of its strategy at all levels.

Certified ISO 13485 and ISO 9001 (2008), the group's industrial activites are mostly  concentrated in France. Its geographical expansion has now led to opening R&D and production centers in the USA, Netherlands, Germany and Ireland. Its investment in R&D exceeds IVD sector's standards. .

Ever since our American subsidiary was established in 1985, our distribution network grew considerably throughout the world. In the last 10 years, 12 new affiliates and 3 branch offices have been opened: China (2003), United Kingdom (2005), Dubai distribution office (2007), Australia/New Zealand and Canada (2008), Hong-Kong distribution office (2011), Germany, Austria, Spain, Italy, Portugal, Switzerland, Belgium, Netherlands (All opened in 2012), India distribution office (2014).
The companies belonging to the Stago Group are Stago, Tcoag, Agro-Bio, BioCytex, Thrombinoscope, Synapse and DSRV.
Founded by Jacques Viret at the end of the Second World War to market a solution to ease digestion and hepatic disorders, the Stago Group has now  almost 2,600 employees, over half of whom are based in France.

The diversity of the men and women, professions and know-how is what allows Stago to develop, produce and sell the widest range of reagents and Haemostasis test instruments throughout the world using the most advanced technologies.
Customer satisfaction is a key value and everyone is conscious that there is a patient behind their actions.
Strength in Specialisation
[Translate to Anglais:] With over 350 marketed products, Stago is a worldwide reference in Haemostasis and a 1st class partner for biomedical laboratories.
Stago also has a licensed training center, offering theoretical and practical training courses at different levels.

Specialised in the fields of Haemostasis and Thrombosis, Stago invests in research and innovation to develop new and better performing reagents, systems and solutions. With 50 years of experience, Stago has acquired a charismatic image in Haemostasis and is well recognised among the international scientific world.

In this respect, Stago regularly organises symposiums or scientific meetings on Haemostasis research and latest practices, during conferences or as separate events.
[Translate to Anglais:] Stago is represented in over 110 countries via its affiliates and an extensive distribution network).
Each affiliate develops the processes implemented by that group, to provide our customers with the best support in terms of quality and services.

Each distributor is chosen on strict performance appraisal criteria with regards to their organization and staff:  knowledge of Haemostasis, after-sales service capacities and commitment to promoting our products in a "customer satisfaction" culture. A specific internal structure (GSA) trains and monitors these teams.